In 1987, the Galway community came together to support a Hospice for Galway. On the 1st January 1990, Galway Hospice began providing care in our local community. We are sure those brave and visionary people who galvanised support for the hospice all those years ago would be incredibly proud to see how their efforts have blossomed into the wonderful, outstanding hospice we have today.
It was a small team with big dreams who wanted a hospice to provide care for as many patients with life-limiting illnesses as possible, enabling them to live with dignity, in the comfort of their homes. Starting with just two nurses in Community Care, it wasn't long before Galway Hospice identified the need for its services, increasing to six nurses by June of 1990. Over the next three decades, the organisation flourished and grew, touching thousands of lives along the way.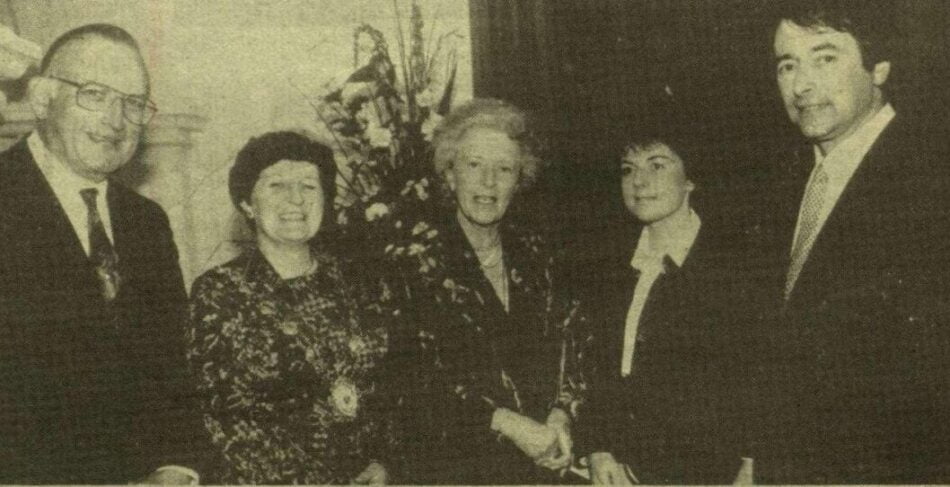 At the launch of Galway Hospice in 1990: Prof Eamonn O'Dwyer, Cllr Angela Lupton, Mrs Maeve Hillery, Dr Brenda O'Halloran and Dr Padraic O'Conghaile.
Community Palliative Care still remains one of our most important services.
Breda King, who began as Staff Nurse with the hospice in 1998, and is now the Director of Nursing, tells us why care at home is so meaningful to the patient, family and staff.
"In my years providing palliative care to patients and families in their homes I soon discovered that it is in their homes I got to know the patient as a person. Through conversation and listening I soon learned the person's love of sport, interest in farming, the family tree, knowledge of local news or indeed whatever piqued their interest. The weather was always a safe topic to start any conversation where there may be a silence. Such conversation openers soon led to the development and building of unique relationships that enabled us to journey with them during their illness and lasted a lifetime," explains Breda.
In addition to home care provided by the hospice, in 1995, following significant fundraising efforts by the people of Galway, the Inpatient Unit facility at Renmore was built. However, it wasn't until late 1997, that the facility opened.
For the staff at the heart of Galway Hospice in 1997, it was a momentous day when the doors opened.
"My favourite memory was the admission of our first patient through the doors of Galway Hospice in Renmore to our Inpatient Unit on 8th December 1997," explains Colette Dodd, Finance Manager, since 1994. "The building was completed in 1995, with Administration, Fundraising and Home Care Team operating from the building, however no funding had been secured from Western Health Board (now HSE) until 1997. We spent 2 years lobbying local politicians and government holding rallies around the county and busing our supporters to the venues to secure the funding."
The Day Care unit opened in 1998, offering an environment where patients can meet people facing the same experiences. It also provides an opportunity and access to our multi-disciplinary team. In late 2015, the Hospice completed the addition of six inpatient beds in single rooms, in association with the construction of a new entrance from the Dublin Road. Despite the setback faced after the reversal of planning for a new larger capacity Hospice at Merlin Park, plans for development into the future continue at Galway Hospice.
From humble beginnings, the service has grown into the extensive consultant-led multi-disciplinary service that currently looks after over 1,000 patients per year in the Inpatient Unit and in the patient's own homes.
We are caring for more people than ever before, for longer and with a greater range of illness and complexity of needs.
We go to great lengths to enable people to live as well as they can with a life-limiting illness, creating environments where families can have the space, peace and time to make positive, lasting memories. To this day, to ensure that no one is denied of the care they need when faced with a life-limiting illness, Galway Hospice care provides its service to its patients and their families for free. This is down to the people of Galway, who have been with us since the beginning, raising over €38million which has been invested into care for some of the most vulnerable in our community.
"There have been so many fundraising events that stand out but a few of the highlights include the initial Buy a Brick campaign where people of Galway bought a brick for £5.00, £10.00, or for different amounts that raised the essential funds to build the Hospice in Renmore," explains Mary Tierney, Fundraising & Events Coordinator, since 1994."
"Another would be 'Trucking for Hospice' when local people in a Galway village reversed trucks and tractors around their local area to raise funds. There has been so many unique and different events that have been vital towards the continuation of the service we provide. The continued support of the people of Galway over the past 30 years is greatly appreciated."