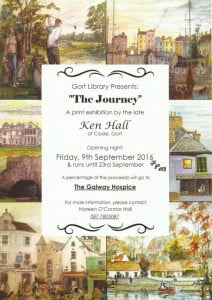 Gort Library will present 'The Journey' – A print exhibition by the late Ken Hall of Coole, Gort.
The opening night takes place on Friday 9th September at 7pm and runs until the 23rd September. All are welcome to the opening night.
A percentage of the proceeds raised will go to Galway Hospice and everyone is welcome to come along to see this very exciting exhibition.
For more information, contact Noreen O'Connor Hall on 087 7805087.
Please support.